If you purchased a home and moved in before January 1st, 2023, you have until March 1st 2023 to file for homestead exemption. If applying here it must be your primary residence (not second home) and you must not have a homestead exemption on another home.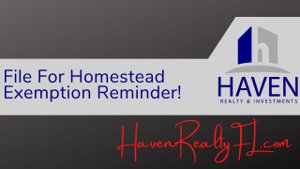 What is homestead exemption? It reduces that tax liability on your newly purchased home by decreasing its taxable value as much as $50,000. It also caps future tax increases at 3% per year, so your tax bill cannot swing wildly out of control with an increasing market.
There are also other benefits, such as protection from lawsuits, but this post is merely a reminder and will not dive into that protection.
How to apply for homestead exemption in Polk County, FL? You will need to visit the Polk Property appraiser website and create an account.
You will then need to follow the steps and upload the documents required, which include your social security card and a Florida drivers license or a permanent resident card for non-US citizens. You will also need two of the following: Florida Voter Registration, Florida Vehicle Registration, proof of payment for utilities (Electric, Cable, Gas, TV, Etc.), Bank Statement, employment verification. These documents must have the name of the applicant or applicants spouse, and the address of the homestead property as the service address.
You may also bring them in person to one of their locations. I'm sharing the link because the Winter Haven office will be closing once they open their Lake Alfred office. There is also a Bartow and Lakeland Office.